In May 2021, at the Autonomy City Summit, Vélogik Digital officially presented its business software suite that simplifies the maintenance and management of bike fleets. We have since continued to hone the software's features and will be delighted to present the latest updates at Autonomy Paris on 16th and 17th March.
Our software suite in a nutshell
Vélogik Digital's software suite was especially designed by industry experts to meet all our clients' needs. As bike mechanics ourselves, we know first-hand the problems that fleet managers and bike repairers encounter on a daily basis. That is why we developed a collection of tools specifically catering to the bike industry and its unique challenges:
Vélocare
Véloclik
Vélocenter
Vélodesk
These four pieces of software, distribued as SaaS (software as a service), give you the power to manage your fleet in real time while also optimising maintenance.
Vélocare
Vélocare is used to manage maintenance operations. The online platform lets you know the real-time status of your fleet, such as the number of bike available. It provides an overview of upcoming maintenance and helps optimise management, regardless of how big or small the fleet.
Vélocare ensures you always stay one step ahead, empowering you to predict maintenance needs and thus increase bike uptime. On top of that, it also ensures you optimise your team's talents and minimises the amount of time and money you spend repairing and maintaining each bike.
Our algorithms, perfected over two years of deep research, allow us to foresee breakdowns before they occur. We are therefore able to pre-empt any potential issues for users, which greatly increases your customer satisfaction.
Moreover, our Véloptim tool helps optimise technician's schedules, especially mobile mechanics. By finding the right person for right job at the right time, it guarantees no time is wasted unnecessarily during rounds. An invaluable tool, especially for dispatchers.
When combined, Vélocare and Véloptim ensure you get the most of your team while also minimising maintenance costs.
Vélocare is already used by our branches in Lyon, Bordeaux and Paris to simplify the maintenance of the 50,000 bikes we care for each and every day.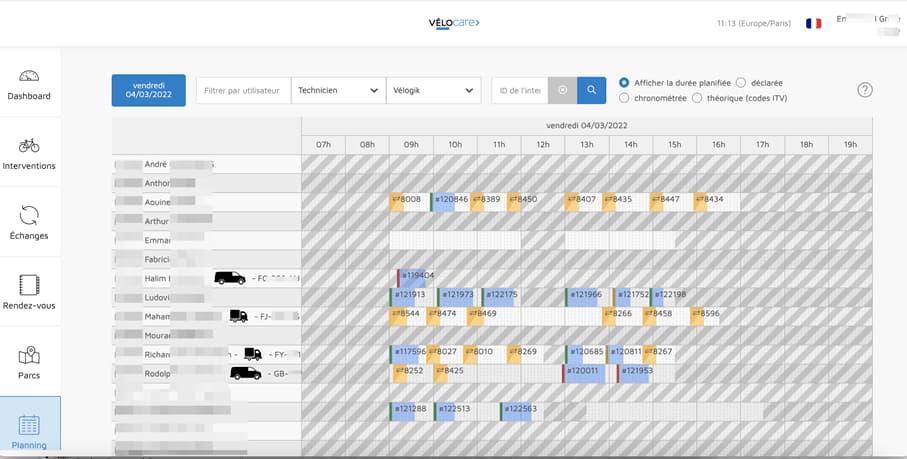 Each operation is planned and tracked via the application. Once completed, the mechanic adds what work has been carried out on the bike using the smartphone or tablet application, preserving a reliable record of all repairs.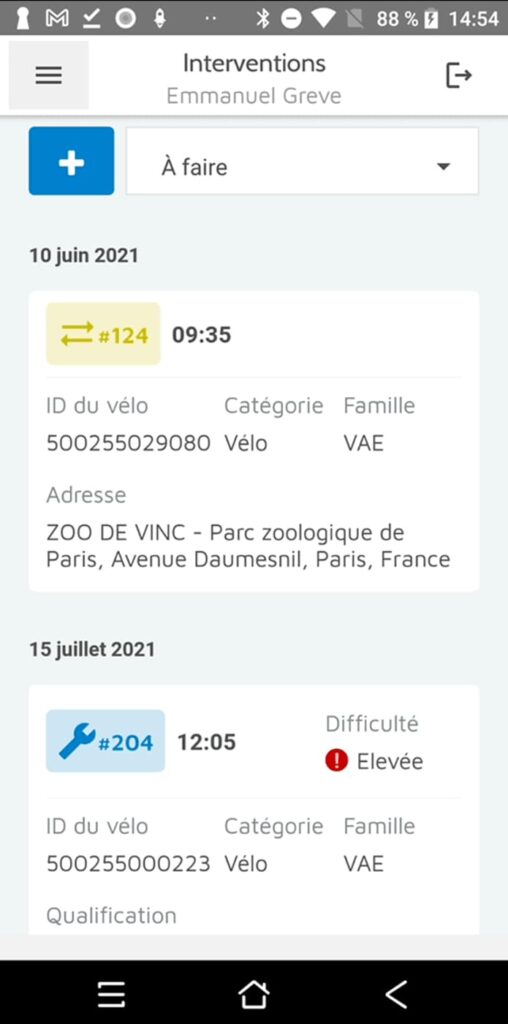 All the data collected is centralised to create a log of all the bikes, service parts and repairs performed. In the long term, it allows you to better understand how your bikes are used, identify the most common repairs and find solutions to avoid, or at least, minimise any reoccurring issues.
Véloclik
Véloclik is used to manage fleets as well the reservation of bikes, accessories and shelters. It makes it easy to offer a simple and intuitive booking interface for users. On the operator's end, the application lets you track the status of your fleet in real time: number of bikes, accessories and shelters that are rented and available; the end date of rentals, the distribution from each rental location, and much more.
Operators benefit from a booking interface with their own branding, completely customisable depending on the various services they provide (free loans, paid rentals with a security deposit, payment in instalments, etc.).
Véloclik also allows you to fully track users, contracts and renewals, centralising all the data into one, easy-to-access location. For example, when a contract comes to an end and a user must return their bike, Véloclik will directly send them a reminder based on the settings chosen by the operator.
This solution caters to short, medium and long-term rental services. It is capable of managing all types of contact as well as billing for multiple rental locations at the same time.
Users can book and pay securely online, or the operator can make bookings directly at the agency via the back office.
Véloclik is already used by Vélostation in Saint-Quentin-en-Yvelines, a service that we manage, and Free Vélo'v, the free service that loans 10,000 bikes to young persons in the city of Lyon.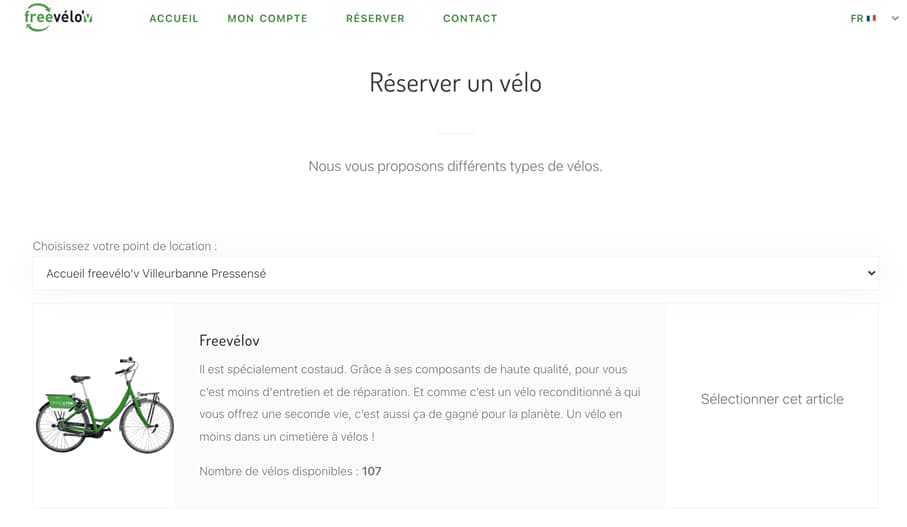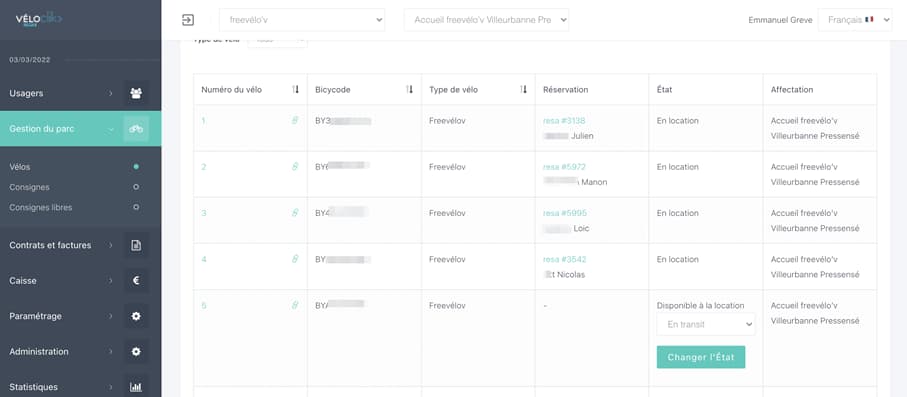 Vélocenter
Vélocenter is a comprehensive business management tool designed for independent workshops, independent repairers and workshop chains. It includes a booking platform for people wanting to repair their bike, either at a workshop or a location of their choosing (at home, at work, etc.).
The software is essential for repairers, enabling them to offer appointments at times that suit them and to show the services they offer, the types of bike they repair and their prices. It is suited to workshops of all sizes, whether it be a single mechanic or an entire team, and can also be used to issue customer invoices and keep a record of all the operations performed for each bike.
As for the customer, Vélocenter allows them to find a local bike mechanic, quickly and easily make an appointment, and centralise all the information regarding their bike. It also means they can estimate ahead of time how much the repair will cost, avoiding any nasty surprises.
Vélocenter is currently used by the Vélogik les Ateliers network to make it easier for our customers to book appointments. Be it for independent mechanics or an entire chain of workshops, Vélocenter has a range of packages that cater to the needs of all bike repair businesses. "Your business is bikes, so let Vélocenter take care of the rest".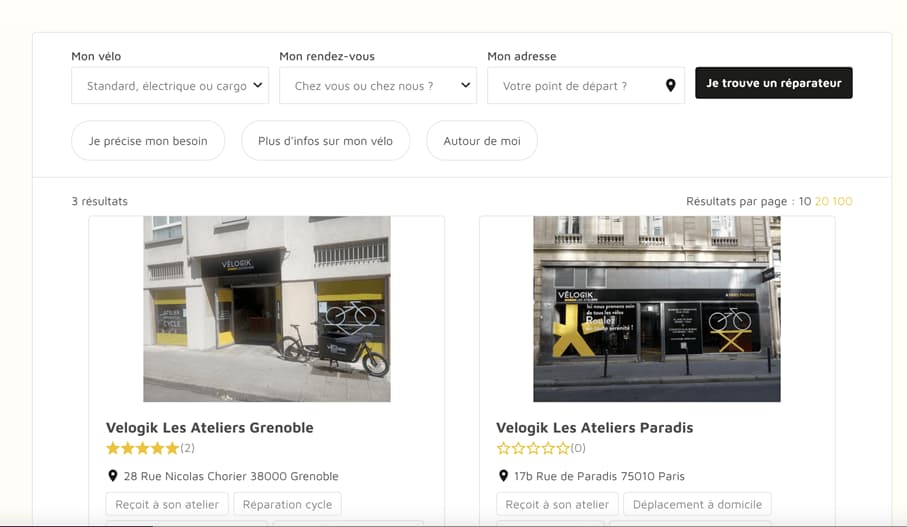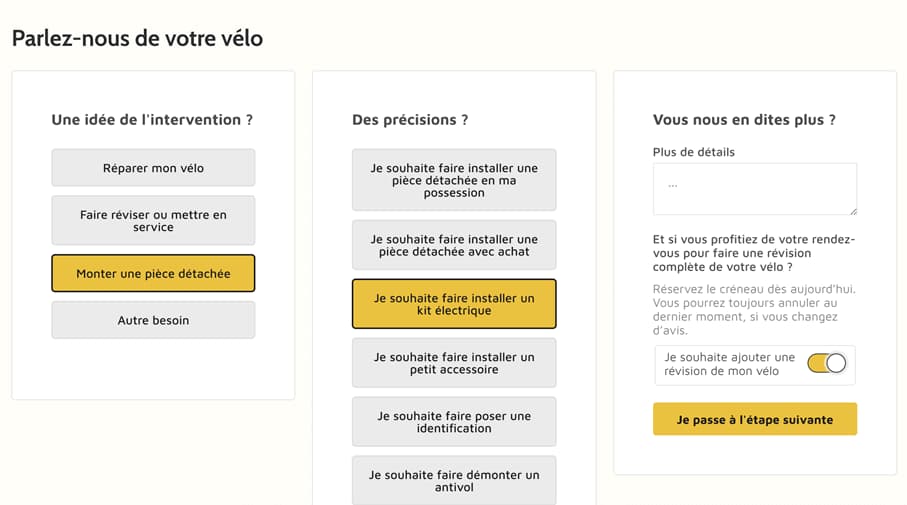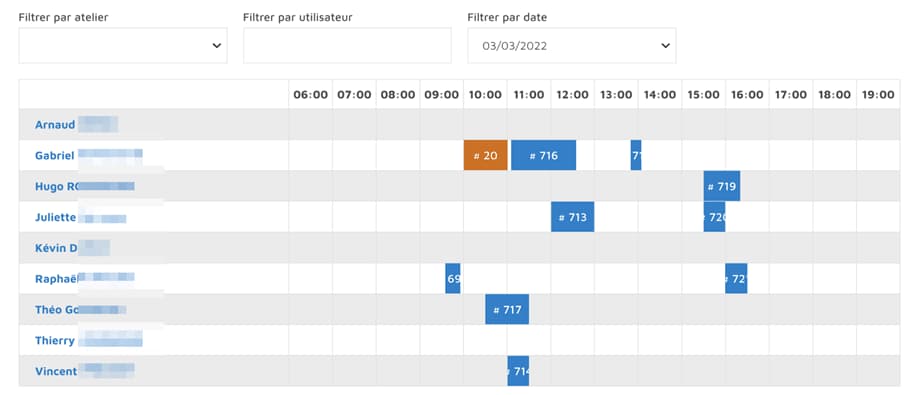 Vélocenter allows mechanics to easily manage their clientele and view all their upcoming repairs with just one click.
Online booking reduces the number of phone calls, which lets mechanics focus on what they do best: repairing bikes. Moreover, it gives customers the possibility to book an appointment when the shop is closed, with confirmation sent by SMS or email.
Vélodesk
Vélodesk is a service that automatically handles incoming calls in conjunction with the other tools in our software suite. It uses artificial intelligence to answer callers and is capable of understanding all their bike needs. Unlike a manned call centre, it is available 24 hours a day, 7 days a week, ensuring 100% of calls are answered.
The AI receives the user's request, finds the right solution to their problem and dispatches the request to the appropriate department. Depending on the request, the AI can perform several actions, including:
Sending an email with the information requested by the user
Sending an SMS with a link
Performing actions using our software, such as scheduling maintenance via Vélocare
Transferring the call to another virtual agent or a human, if necessary
And much more!
Users can make requests via telephone, SMS, an online form, chatbot or WhatsApp. However your customer likes to communicate, we have it covered.
Vélodesk is currently used by our subsidiary in the Paris region for the Véligo bike rental scheme and handles 5,000 calls every month. A version designed for all our clients is due in September 2022.
Software designed to create service history for each bike
The 'bike service history' created by Vélogik aims to centralise all of a bike's information into one single location. It includes a bike's technical specifications, a record of maintenance performed on the bike and, if relevant, its rental history.
This service history makes it possible to understand how bikes are used in the long term and identify the most common repairs. This information can then be used to perform preventative maintenance, avoid bike downtime and, ultimately, minimise a bike's overall servicing cost.
All our tools are designed with the same goal in mind: to improve bike uptime and avoid the need for curative maintenance.
If you want to know more about our business software suite, you can find us at Autonomy Paris on 16th and 17th March. Come say hello and we will be delighted to answer all of your questions!
About Vélogik Digital
Our subsidiary Vélogik Digital was created in December 2020, primarily to address our own in-house needs for smart maintenance. As a leader in bike fleet maintenance in France, we needed specialist tools to help manage the 50,000 bikes we have in our care.
We also noticed that the bike maintenance market lacked such software, and therefore decided to offer our tools to bike operators, transport bodies, local authorities and businesses. Our aim is to leverage our expertise in order to provide a powerful tool that makes managing bike fleets infinitely easier and simpler.