When discussing how to promote cycling, we often talk about infrastructure such as 'bike roads' and incentive policies. Yet, something we rarely touch upon but that we believe is just as important is bike parking.
Theft: a spoke in the wheel of cycling uptake
30 seconds is the average time it takes to steal a bike in a public area. Unsuitable parking in the city.
France's 2018 bike plan put the onus on the national railway company and local council to build more secure bike shelters. And these will primarily be located around train stations: a big plus for intermodal travel! When constructing new office or residential buildings, it will now also be mandatory to provide solutions for cyclists. In particular, workplaces must offer enough bike parking for 15% of the personnel. It's a start, but not good enough.
It's in the city centre and inner-city suburbs where there is the biggest need for cycling mobility, since this is where most people travel. So, evidently, that is where parking should be located. However, the parking hoops that many towns and cities have chosen to install are not really secure enough. Advances in electrification and cycling technology mean electric bikes are increasingly accessible to the general public: city centre bike parking needs to be adapted to keep up with this change.
Grenoble case study: a wide choice of parking
In 2016, news of Grenoble's new bike shelters quickly spread across France, a sign of the city's large desire to improve bike security. Over the first two years, the 1,200 places were put to good use, but it was clear that they didn't entirely meet the new demand. And so in 2018, the City of Grenoble showed off its innovative nature once again and launched its miniboxes.
The idea was simple, and originated from a single question: given our dense city centre, narrow roads, increasingly smaller homes and the growing popularity of cycling, how can we provide secure parking for electric bikes in the centre of Grenoble? The answer was the Minibox: a secure, local bike parking shelter. These light structures take up the same space as one car parking spot and can fit 4 to 5 bikes. After much discussion and many feasibility studies, 8 to 10 miniboxes were installed in early 2019.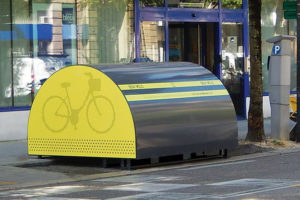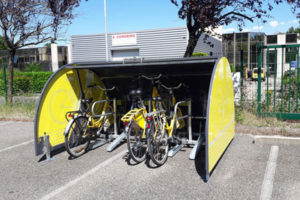 Let's not forget shared bike parking
We have talked about the needs of secure parking for individual bikes, but what about long-term rental and dockless bikes? The current space allocated for parking is far from sufficient and leads to conflicts between users in public areas: conflicts with pedestrians, other bike users and, especially, a conflict on how to fairly share parking spaces with cars.
In order to promote cycling as part of a city's global transport plan, councillors must also take into consideration non-regular users such as those who use bike sharing schemes. Dockless bikes much deserve their place in the mix, offering additional benefits compared to other forms of transport. They make bikes feasible for even the shortest of journeys, bringing start and end points much closer to users' destinations while taking up much less room for parking than docking stations.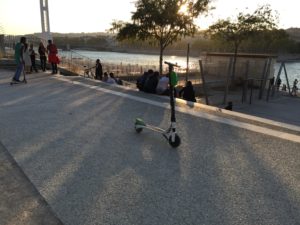 Designing public space for versatile mobility
We are stepping into a new era built upon the in-depth analysis of public behaviour and the underlying social factors. Nowadays, the public space is increasingly shared amongst several types of users, with a growing number of bus and cycle lanes as well as the emergence of electric scooters, electrical unicycles and small autonomous delivery vehicles. There is therefore an overwhelming need to increase the number of bike parking spaces in the underused and out-of-the-way cracks of our towns and cities. We must also optimise the signage and identification of such areas and test new forms of shelters and services. Moreover, any extra parking spaces for dockless bikes can very much be used for private bikes (unlike docking stations, which can only be used by docked bikes!).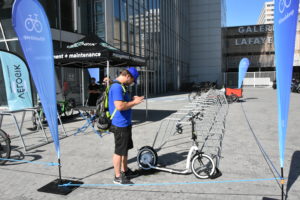 Given that the environmental, sanitary and social context demands a quick shift towards soft mobility, one key element is pinpointing and removing obstacles discouraging people from taking up cycling. And parking is precisely one of these obstacles. There is no shortage of bike parking solutions; we just need to deploy them more extensively. And we must always remember that like the bikes that use them, this infrastructure must also be maintained and cared for to provide a reliable and safe service.