In 2020, we saw a growth of cycling. At Vélogik, we want to help sustain this development and ensure this momentum lasts over time. Maintenance is essential to support this trend because a bike that rides is good, but a bikes that rides well is better ! Indeed, regular maintenance allows users to ride safely and sustainably for their daily commute. Specific expertise is all the more needed with new models : connected bikes, electric bikes, cargo bikes…
Vélogik, pioneer and historical expert in bike maintenance
The company was created in 2008 by Franck Brédy, a cycling fanatic and mountain bike rider. He first worked as a property manager, before turning his interest to the cycling market when he realised that there were very few, if any, companies catering to businesses and cities. In 2008, he founded Vélogik to offer businesses and cities a large range of cycling services.
2018 marked a strategic turning point in Vélogik's history. Franck Brédy decided to shift his focus to growing the company's BtoB bike maintenance service. Vélogik thus became a pioneer in the field.
It went on to win several key contracts : maintenance of the Vélib self-service bikes in Paris for Smovengo, the Véligo Location bikes for IDF Mobilités and Fluow, the self-service bikes in Bordeaux with Cykléo…
Vélogik's pioneering status and capacity to innovate put it in a position to develop additional business lines that would help structure the entire maintenance sector, from professional training programmes to digital tools for managing operations.
Smart and optimized maintenance
Vélogik, as a pioneer and expert in the field, wants to structure and professionalize the entire maintenance sector by providing digital tools designed specifically for the bicycle industry.
Over the last several years, the group has developed specialist business tools used in house to manage and maintain bike fleets. Vélogik has now decided to share its expertise by launching a suite of SaaS tools for bike maintenance.
These tools have been designed by and for fleet managers, empowering them to implement efficient maintenance and tracking of the fleet.
Vélocare is the foundation of these innovations. This maintenance platform is made for interventions management and to track several thousand bikes and all other equipment. This app displays the real-time status of a fleet in order to optimise fleet management.
Véloclik is a tool to manage bike fleets and bike or equipment rental. This online platform is designed for cities and transport bodies who want to provide a more professional service and offer users an easy-to-use booking service.
Vélocenter is a platform for private individuals to find and book bike repair professionals. Repairers can issue invoices, offer appointment times and log work performed on bikes. Private individuals can find a repairer and access all their bike's information through a single app (its "bike data hub").
Vélodesk, which will be released by 2022, is a multi-channel customer relationship centre dedicated to after-sales management and allocation of maintenance operations on site.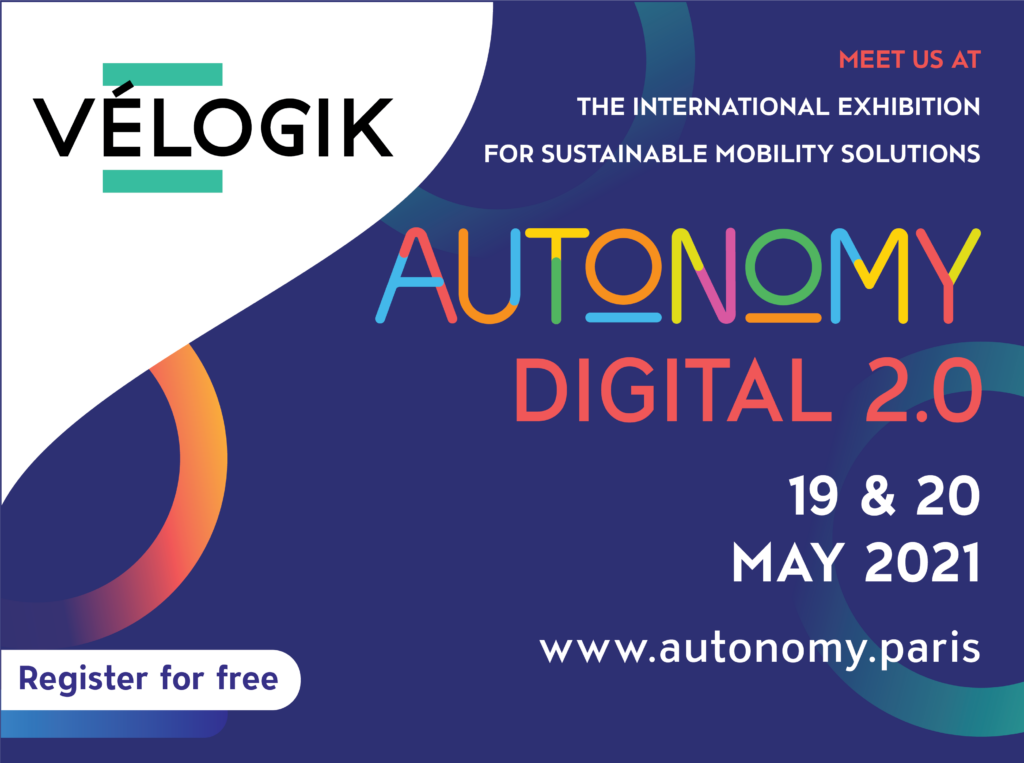 For more information on our suite, meet us on May 19th and 20th for the 100% digital edition of Autonomy.
We will host a conference about the role of the connected bike in maintenance optimization on May 20th from 11:40 a.m to 12:20 p.m.
The use of data for a predictive maintenance
These four tools collect data, and centralising information about a bike to create a bike data hub also helps improve the whole maintenance workflow, provides insights into usage and makes it possible to implement predictive maintenance.
The data collected includes:
Number of bikes available for rental, the rental duration and a fleet's availability
Characteristics of each bike
Maintenance operations (requests, duration, type)
This data must be managed and leveraged to improve fleets, reduce costs for operators and improve the return on investment.
The data collected makes it possible to identify recurring manufacturer flaws, act before the problem arises and inform the manufacturer. With smart bikes, some operations could even be performed remotely, such as disabling the electric battery when a bike is stolen.
These smart tools transform the bike maintenance process and facilitate the lives of both the bike mechanic and the bike fleet manager.
The future of bike maintenance
Cycling's growing popularity shows no signs of stopping and it will continue to grow in coming years, as will the number of shared bike fleets.
Vélogik's goal is to use its over thirteen years of expertise in France and Europe to create softwares that address the challenges faced by fleet operators and repairers.
A 2020 study carried out in partnership with the FUB (french federation of bicycle users) found that out of 3,700 bike repairers in France, only 5% of them had a digital tool for managing maintenance work, and that 61% would like one.
The creation of the Vélogik Digital business unit in early 2021 demonstrates the company's desire to become a key player in the sector's digital transformation.